+++ General Motors (GM) says it's doing the right thing for its business by dropping the popular APPLE CAR PLAY infotainment experience. "There are many manufacturers today that don't have CarPlay", chief financial officer Paul Jacobson said. "But I think we recognize that the burden's on us. If we're going to take that feature out of our vehicles, we need to respond with a program and a customer package that is equally as compelling, if not more compelling. We think with the partnership we have with Google and ultimately with the vehicle data we have, we can create an experience that customers are going to love". The auto giant said in late March it would phase out Apple CarPlay and Android Auto, despite the strong consumer preference to use the platforms for everything from maps to music controls. Apple CarPlay is supported in 800 vehicles, the tech giant said. In place of CarPlay, GM will stand up a new built-in infotainment system developed with Google for its future line of EVs. GM will begin the phase-out process of CarPlay with the 2024 modelyear Chevrolet Blazer EV. By making the move, the company is aiming to collect more of its own data to not only better understand drivers, but to pad its longer-term profit margins. GM told investors on Tuesday it's looking to achieve profit margins of more than 20% on "new businesses" by 2030. That would be above the company's overall 2030 operating margin goal of 12% to 14%. Pros have speculated GM could charge subscriptions for services such as insurance by tapping into an accumulating stream of data that it owns. "It's part of where we're going as a company", Jacobson added. "Obviously data and software is a big competitive space across the board". +++
+++ Another automotive birthday this year: The BENTLEY CONTINENTAL GT is getting a cake for being 20 years in production. The superluxe GT segment was neither new nor unpopulated when a Cypress Green Continental GT with VIN 20001 came off the production line in Crewe, England, in December 2003. It's just that nothing else combined as much speed, handling and all-out luxury as the Bentley. That coupe also introduced the world to a 6.0-liter W12 engine making 550 hp and 650 Nm of torque back when the 4-seat Ferrari 456M was getting 442 hp and 550 Nm from its V12 and the 2-seat Ferrari 575M was making 'just' 508 hp and 600 Nm. from the same engine. With the 20th anniversary being celebrated with China dishware, it's fitting that Bentley used Auto Shanghai to introduce a one-off celebration in the form of a Continental GT S. This one comes in Magnetic Dark Grey Metallic over 22-inch black chrome and black wheels. Red accent lines embellish the mirror caps and form a hem around the base of the coupe. Inside, specialty division Mulliner's made a unique arrangement of Beluga (black) and Hotspur (red) leather against piano black trim. The bi-finish fascia puts Granite Stone above Grand Black veneer, separated by red pinstriping. Special badging and laser etching appears in places like the treadplates, center console, and veneers. The carmaker plans events in the Western hemisphere at the Goodwood Festival of Speed in July, a global relay of Continental GTs crossing three continents to pass a custom Bentley baton. There will also be drive hubs at the HQ in Crewe and in Geneva, Switzerland where invited guests can drive all three Continental generations, the first- and second-generation examples coming from the Bentley Heritage Collection. The culmination comes in another one-off Continental GT inspired by the first unit produced that will debut during Monterey Car Week. +++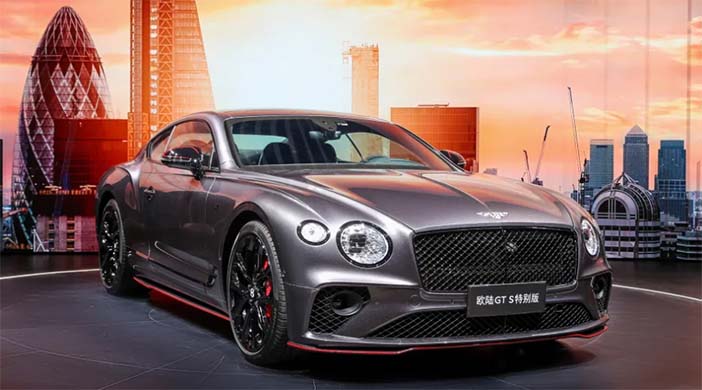 +++Automakers from CHINA are giving US car companies a run for their money, especially as the momentum behind electric vehicles accelerates, and that could force the likes of Ford and General Motors to make some hard decisions. Other than Tesla, popular US auto brands lost major ground in China last year, the world's largest car market and critically important to manufacturers. GM's car sales there fell 20% from 2021, while Ford's declined 33.5%, according to advisory firm Automobility. "The market has totally changed", Ford CEO Jim Farley told reporters at a Thursday charity event in Detroit. "We're going to have to rethink what the Ford brand means in a place like China". That's especially true as EVs take center stage, Farley said, noting that he has learned the luxury brands that do best in the Chinese market sell only electric vehicles. Chinese EV-makers market share in China rose 17% in 2022, while that of foreign automakers dropped 11%. Some of this can be attributed to Chinese car companies' ability to build better and cheaper cars, especially EVs, that consumers are keen to buy. "It's pretty much the consensus belief that the US automakers are increasingly irrelevant" in China, Deutsche Bank analyst Edison Yu told Insider. "As we make this transition to EV, the GMs, the Fords in China will really have to be very bold and aggressive to find success". "At some point there needs to be either a decision to continue or to pull out", Yu added. "We're at a point where one does need to make a decision on their future". As the industry bounced back from the Great Recession, and China became the fastest-growing (and EV friendly) car market in the world, American car companies rushed to enter the market. But as political tensions increase between China and the US, operating in China is starting to become more of a risk for US companies. Add in the fact that Chinese brands spent the last several years sapping up industry know-how from joint-ventures with US brands, and the Chinese market suddenly becomes a much more hostile place for an American company. That means that US companies will redouble their EV efforts at home, where they can count on a more reliable and loyal customer base. The one kink in that plan is Elon Musk and his ongoing price war. "Price wars are breaking out everywhere. Who's going to blink for growth?" Farley said at the Thursday event. While American companies lose ground in China, there is a bright spot. The pandemic forced automakers to make more with less, by shifting their supply chains and focusing on the markets where they make the biggest profit margins. GM largely led the charge to exit money-losing markets, pulling out of Europe in 2017 and later leaving Russia, India and Australia. The company still operates in China, but is struggling to defend its market share. GM's China sales fell 25% in the first quarter of 2023 after retreating 20% last year. The retreat from China and a hyper-focus on the US could be risky. Making up the difference in Europe isn't likely to be an option for US car companies — Europe's a market which Chinese car makers are already aggressively chasing after, and the competition is increasingly fierce. While there aren't currently any Chinese car brands for sale in the US, the concern is that eventually the Chinese could eventually make a play to upend the US market. "What happens in China will not stay in China", Bill Russo, CEO of Automobility, told in January.
+++ The CHRYSLER 300 is nearly ready to retire after almost 13 years in production. Details about its successor haven't been released, but a recent report claims that the Stellantis-owned brand privately showed some of its dealers an electric model that will take the sedan's torch. The yet-unnamed model takes the form of a sedan with a fastback-like roof line. Some attendees drew a parallel between the EV and the prototype shown in renderings in 2021; others pointed out its proportions and size are reminiscent of the Dodge Charger Daytona concept, which will reach production in the coming years. Nothing is official, but we wouldn't be surprised if the Charger Daytona spawns a Chrysler; the current-generation Charger shares its basic platform with the 300, after all, and building several vehicles on the same platform is a way for carmakers to reap economies of scale. One point worth noting is that Dodge executives have confirmed the architecture that will underpin the next Charger is compatible with the straight-six engine found in several Stellantis products. If it fits in the Dodge, it's reasonable to assume it fits in the Chrysler. Dodge hasn't announced plans to offer the Charger with the straight-6 engine and neither has Chrysler; executives haven't revealed what comes after the 300, though company CEO Christine Fuell told that there are "quite a bit of new products in our roadmap". The rumor echoes an earlier report that details an alleged 300 successor due out in 2026 with battery power, between 204 and 450 horsepower depending on the variant and an 800 volt electrical architecture for faster charging. This hasn't been confirmed, however. As of writing, the only upcoming model that Chrysler has announced is a production version of the Airflow Vision we first saw as a very futuristic concept at CES 2020, as a more realistic design study at CES 2022, and with a black finish at the 2022 New York Auto Show. Regardless of whether the 300 gets replaced and what replaces it, at least Chrysler seemingly has a future: it was skating on perilously thin ice when Fiat-Chrysler Automobiles (FCA) and PSA Peugeot-Citroën merged to form Stellantis in 2021.+++
+++ GENERAL MOTORS (GM) beat first-quarter profit estimates and raised its full-year earnings and cash-flow guidance after vehicle demand at the start of the year surpassed expectations. Its shares rose in premarket trading. GM made $2.21 a share in adjusted profit in the first quarter, compared to a consensus forecast of $1.72 a share. Revenue rose 11% to $39.99 billion, it said Tuesday, which was more than the $39.24 billion analysts expected. The stronger results stem from rising sales in the US, even in the face of higher interest rates and inflation. GM executives said demand was strong enough to revise 2023 guidance upward, boosting profit estimates for the year by $500 million to between $11 billion and $13 billion. "We did it with strong production and inventory discipline and consistent pricing", GM chief financial officer Paul Jacobson said on a call with journalists. "All in all, we're feeling confident about 2023". The Detroit automaker raised per-share full-year guidance to between $6.35 and $7.35, up from $6 to $7 a share, and said free cash flow would also increase by $500 million to a range of $5.5 billion to $7.5 billion. GM's shares pared a gain of as much as 4.4% before the start of regular trading Tuesday, rising 3.5% to $35.50 as of 6:55 a.m. in New York. The stock was up 1.9% for the year as of the close on Monday. The automaker's sales were particularly strong in North America, where first-quarter earnings rose before interest and taxes rose to $3.6 billion. Vehicle sales rose 18% to 707,000 in the region. Jacobson said the company originally expected to sell 15 million vehicles in the US this year, slightly less than the 15.5 million annualized rate automakers foresaw in the first quarter. North American demand was enough to offset a weak performance in China, GM's second-largest market. The automaker continues to struggle in the country, where its vehicle sales fell 25% to 462.000 vehicles in the quarter. Profits from its joint ventures in the market slumped 65% to $83 million. The market has struggled overall in the wake of Covid-19 restrictions and foreign automakers have had to overcome a growing preference for Chinese brands by competing on price, squeezing profit margins. The situation in China probably won't significantly improve until the second half of the year, according to Jacobson. GM remains on target to sell 150,000 electric vehicles this year, the CFO said. About 70.000 of them will be Chevrolet Bolt and Bolt EUV compacts and 80.000 will be larger models built using the company's new Ultium battery pack. Those include the Cadillac Lyriq, Hummer pickup, Chevy SIlverado pickup and Chevy Blazer and Equinox SUVs. GM's Cruise self-driving car unit nearly doubled its loss in the quarter to $561 million. +++
+++ The HYUNDAI MOTOR GROUP said on Tuesday it had finalized a $5 billion electric vehicle (EV) battery joint venture in the U.S., as it reported first-quarter net profit had more than doubled, exceeding expectations. Hyundai and partner SK On, a battery unit of SK Innovation, will set up a new battery manufacturing plant in the state of Georgia, the companies said, formalizing an earlier provisional agreement. The move follows new U.S. requirements for 50% of the value of EV battery components to be produced or assembled in North America for car buyers to qualify for a $3.750 credit. The U.S. is Hyundai's largest market for sales. The new plant is expected to start manufacturing battery cells in the second half of 2025 with an annual production capacity of 35 GWh, which is sufficient to support the production of 300,000 EVs. Hyundai reported a net profit of 3.3 trillion won ($2.47 billion) for the January-March period versus a profit of 1.6 trillion won a year earlier, thanks to a rise in vehicle output as a global chip shortage eased and demand for its high-margin SUVs remained strong. That compared with an estimate for first-quarter profit of 2.3 trillion won from 16 analysts, and sent shares up as much as 3.4% after the results were released, reversing earlier losses.
+++ The MCLAREN 720S's successor has been revealed, and … it looks a lot like the 720S. It's the McLaren 750S, and there's a reason it looks similar, as a lot of it is. The company noted that the 750S uses 30% new components compared to the 720S, which means that much of it is the same. But that aside, it does feature notable upgrades from the more powerful engine to the lighter weight. The coupe is even being joined by the convertible (750S Spider) right out of the gate. Sitting in the middle of the 750S is a version of McLaren's classic twin-turbo 4.0-liter V8. Compared to the 720S, this one has more boost pressure, an additional fuel pump to maintain fuel injector pressure and pistons from the 765LT. All of this means that it makes 750 hp and 800 Nm of torque, increases of 30 hp and 30 Nm respectively. The 7-speed sequential automatic transmission continues, but the rear end has a shorter gear ratio. The coupe weighs 1.380 kilos, which is 30 kilos less than the 720, and the Spider weighs in at 1.430 kilos). Both benefit from lighter carbon-fiber seats, a lighter exhaust, forged wheels, and even lighter driver display and windshield. All of this means that both the coupe and convertible will get to 100 kph in 2.7 seconds. The coupe will then do the quarter-mile in 10.1 seconds, with the Spider just 0.2 second behind. Top speed for both is 330 kph. On the handling front, McLaren has retuned the suspension all around from the hydraulic anti-roll system to the shocks and springs. The front track is a bit wider, and the steering rack has a quicker ratio. For convenience, the nose lift system now lifts the front end in just 4 seconds, the fastest of any McLaren. So you can wave that in your Senna-owning buddy's face. And on the topic of the Senna, there's a new track brake package that uses 15.4-inch carbon ceramic rotors and monoblock calipers based on that supercar's system. It joins other performance options such as titanium wheel bolts, Pirelli P Zero Trofeo R tires and even lighter (by 33%) carbon-fiber seats. And this all brings us to the design changes, which are probably the least interesting, since the 750S looks so similar to the 720S. But there are changes, such as a lower nose, smaller headlight intakes, deeper lip spoiler, new side intakes and a longer tail with a larger, but lighter, rear wing. The aforementioned lighter exhaust system also ends in a center exit "inspired by the P1". The interior isn't dramatically different either, save for the new seats and instrument display. There is a neat optional cargo shelf for the coupe that has a window to show off the V8 underneath. Apple CarPlay is included as standard, and there is now a custom drive mode function that lets drivers set custom preferences for engine, chassis and transmission settings and access them at the touch of a button. McLaren is taking orders for the 750S now. +++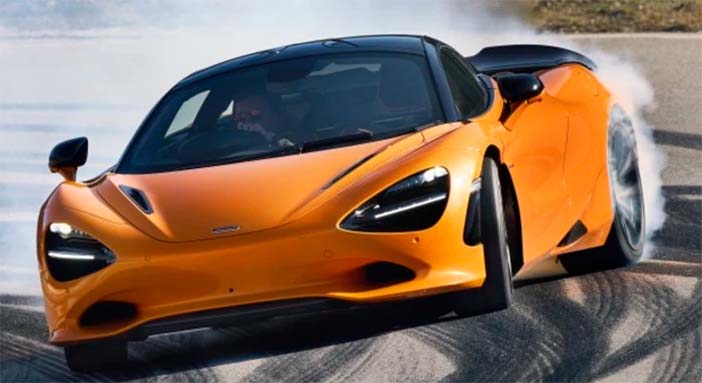 +++ TESLA disappointed its shareholders on April 19 when it revealed how its aggressive price cuts have affected its business. The carmaker started slashing the price of its Model Y and Model 3 in January, and its latest earnings report showed that profit margins have fallen dramatically over the past quarter. In a call with investors, CEO Elon Musk hinted that he'll push ahead with the strategy in a bid to lure customers away from traditional automakers and EV rivals. But analysts have warned that Tesla may have to sacrifice its short-term financials to boost its market share, and it might be too early to say whether the price war will help or backfire. The entry-level Model 3 now costs less than $40.000, down from $62.990 at the start of the year. The Model S and Model X are also 20% cheaper than they were at the beginning of 2023, even after Tesla raised US prices Thursday. But these cuts have eaten into Tesla's profit margins. In an earnings report, the company disclosed that its profit had plunged 24% year-on-year to just over $2.5 billion. Shares fell nearly 10%, wiping out $56 billion worth of valuation; a figure higher than Ford's market cap. Wall Street had anticipated that margins would fall but traders were likely surprised at just how big the drop was, according to Morningstar equity analyst Seth Goldstein. "The extent of margin declines was below what I was expecting and what the market was expecting too", he told. "That's why we saw the stock sell-off, it was a reaction to that". In Wednesday's earnings call, Musk told investors that the company will put sales growth ahead of profit in a weak economy. "We've taken a view that pushing for higher volumes and a larger fleet is the right choice here versus a lower volume and a higher margin", he said. Musk's willingness to pursue a strategy that is hitting profits suggests he might be eyeing a market occupied by legacy automakers. Ford was one of the only traditional automakers to respond to Tesla's cuts in January, dropping the price of its Mustang Mach-E, but it has not made further reductions. While price competition isn't uncommon in the auto industry, car companies might struggle to match the size of Tesla's cuts without hurting their own profit margins. I think legacy automakers are left scrambling right now: do they cut prices, or do they sell fewer EVs at a higher price to preserve profits? They're faced with a choice between cutting prices or hurting profits even more. That makes for an interesting scenario in terms of how they respond", Goldstein said. Tesla's margins fell last quarter because price cuts ate away at revenue, but margins could rebound if Musk manages to cut costs. Musk and other executives said Tesla would bring in innovative manufacturing techniques and use smaller factories in a presentation on March 1. The EV maker is also rumored to be developing a cheaper model, expected to cost around $25,000. "They're passing these cost savings that they're making on to the consumer, whereas I think historically that would just be margin that would go into the books of the automaker", Caspar Rawles at Benchmark Mineral Intelligence, a price-reporting agency, previously told. "But Elon alluded that they have a mandate to try and maintain a low sticker price for these vehicles, which obviously has been extremely challenging over the last couple of years with all of the supply chain problems that they faced", he added. By slashing prices and aggressively cutting costs, Tesla is choosing to suffer short-term profit pain in exchange for growing its longer-term market share, but it will be a while before Musk can say whether that was the correct approach. "Right now, it looks like the company's competitive position is being prioritized over protecting profitability", AJ Bell investment director Russ Mould said. "Only time will tell if that is the right move". +++