+++ Skoda is actively considering adding a plug-in hybrid variant to the line-up of its next generation of the KODIAQ , but will only commit if legislation and incentives allow it. Speaking at the brand's annual press conference, outgoing Skoda CEO Thomas Schäfer said that PHEVs are "a very expensive way of bringing down CO2 and fuel consumption", but despite having previously dismissed any prospect of a Kodiaq PHEV, he also mentioned the model when listing vehicles where Skoda has plug-in technology. When asked to clarify, Schäfer admitted, "We keep looking at it. The outlook in the EU really doesn't help, because plug-in hybrids won't be supported in the future. That makes it very difficult to get incentives for this car. It's immense cost to bring it to the vehicle if there's then no market for it". With normal model lifecycles, the next-generation Kodiaq would be due before the end of 2024. It's likely to keep its base on the existing MQB platform, but it could get access to the new, final generation of combustion engines that will be introduced on Audi's A4 in 2023. These include four-cylinder petrol motors that are all but certain to be adaptable into plug-in hybrid powertrains. Schäfer said the timeframe would, in theory, still allow Skoda to decide to offer a Kodiaq PHEV (alongside the next-generation Superb PHEV and the current Octavia plug-in) if legislation and incentives make it viable. "The technology is available in the group and the platform is available", he said. "We just had the facelifted Kodiaq last year so we would still have the time to decide if we go for it on the next car". +++
+++ MASERATI 's most strategically important and potentially bestselling model in decades is the new Grecale, which provides the Italian firm with a long-awaited rival to the Porsche Macan and will play a fundamental role in its rapid transition to electrification. Revealed shortly after Maserati's parent company Stellantis announced that the brand (along with Alfa Romeo, DS and Lancia) will launch only electric cars from 2025, the Grecale has been engineered to accommodate pure-combustion, hybrid and fully electric drivetrains, which will lend it a similar flexibility of purpose to its German rival, itself due a pure-EV in 2023. It sits below the Levante in the Maserati line-up, and will be joined in dealerships by the long-awaited second-generation Gran Turismo sports car – which will also be offered with an electric drivetrain, as well as the all-new versions of the Quattroporte and Levante due in the coming years, each with a full spread of drivetrain options. It will be available from launch with 3 petrol engine options: 2 variants of the 3.0-litre 'Nettuno' V6 first used by the MC20 supercar for the mid-rung Modena and top-spec Trofeo, and a 4-cylinder mild hybrid for the entry-level Grecale GT. The V6 uses the same pre-chamber combustion technology as the full-fat MC20 engine, which aims to boost both performance and efficiency, but has been modified in line with its more mainstream billing. It has a wet rather than dry oil sump, for example, and can deactivate the right cylinder bank at a cruise for reduced consumption; this function necessitated a 'complete redesign' in order to accommodate collapsible tappets which allow the valvetrain on that side of the engine to be deactivated independently. In the Modena, the V6 is tuned to give 330 hp and 450 Nm for a 0-100 kph time of 5.3 seconds, while the Trofeo bumps those figures up to 530 hp and 600 Nm to shave the sprint time to just 3.8 seconds; which makes it quicker than the BMW X3 M Competition. The mild hybrid car, meanwhile, takes 300 hp and 450 Nm from a twin-turbocharged 2.0-litre unit mated to a belt-integrated starter-generator (BISG) and a 48 Volt battery in the boot to give improved economy and an electrical power boost under hard acceleration. Maserati claims a 0-100 kph time of 5.6 seconds and, crucially, an engine note "that retains the usual characteristics of any other Trident-brand car". All engines send their reserves through an 8-speed ZF automatic gearbox to both axles, with a self-locking limited-slip differential fitted to the rear of the Modena and Trofeo, and optional on the GT. The Grecale measures 4.846 mm long by 1.670mm tall and 2.163mm wide, with a wheelbase of 2.901mm, which makes it a similar size to Alfa Romeo's Stelvio, which is no coincidence, given it fundamentally shares that car's acclaimed Giorgio underpinnings. Optional air suspension gives 6 levels of adjustment over a 65 mm height range (sitting lowest in park mode and at full height in Off-road) and a new vehicle dynamic control module (VDCM) serves as "a top-ranking orchestral conductor" for all dynamic elements of the chassis. Maserati says this system's predictive intervention into suspension movements differs according to the drive mode selected (Comfort, GT, Sport, Race or Off-road) and gives "levels of performance and integration that could not have been achieved in the older architecture". Ventilated brake discs with four-piston callipers are standard but higher-spec cars get dual-cast perforated items paired with performance six-piston callipers at the front and four-pots at the rear.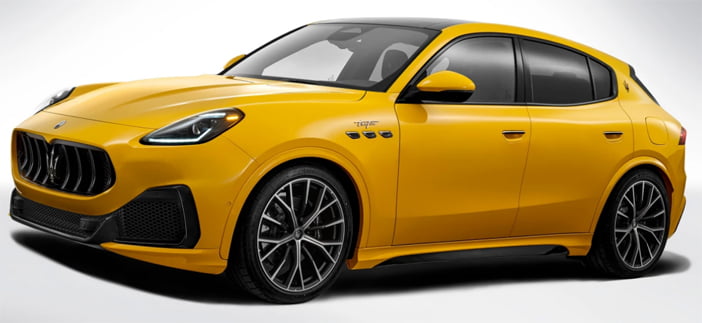 Design-wise, the Grecale gives strong clues as to what to expect from other models Maserati's new-era line-up; its silhouette is a close match for the larger Levante, but the influence of the new MC20 is evident in its "low and imposing grille" and its silhouette, which "takes on a vertical rather than a horizontal aspect". The rear end, meanwhile, is characterised by new boomerang-shaped headlight designs claimed to be inspired by the Giugiaro-designed 3200 GT sports coupé from 1998 and a new-look exhaust, while the performance-minded Modena and Trofeo variants are marked out by a rear track widened by 34mm over the standard Grecale GT, as well as bespoke bumpers and chrome detailing on the front grille.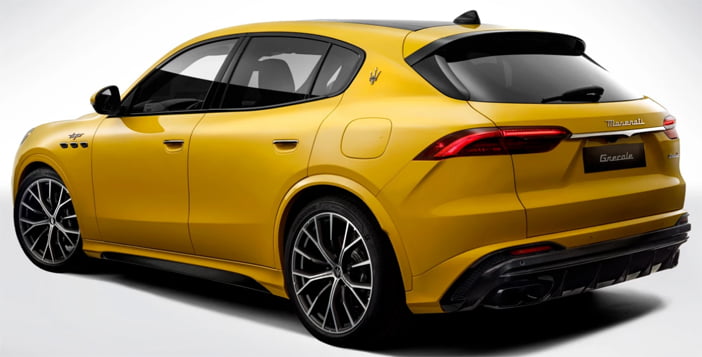 The cabin represents a radical departure from existing Maserati models, chiefly in the adoption of a new 4-screen set-up which brings enhanced digital functionality and allows for a more minimalist, switchgear-light design. The driver display is digital as standard and there's a 12.3 inch central infotainment screen, a 8.8 inch touchpad for the climate control and a new digital clock mounted prominently at the top of the dashboard. The removal of the bulk of physical controls, as a result, allows for a larger central armrest and a dedicated phone charging cubby. Materials and colour schemes differ according to trim level; the GT adopts a more minimalist look and warm colours, while the Modena features bespoke embroidery, trim elements and stitching, and the Trofeo is market out by its exposed carbonfibre panels, perforated leather seats and contrasting stitching.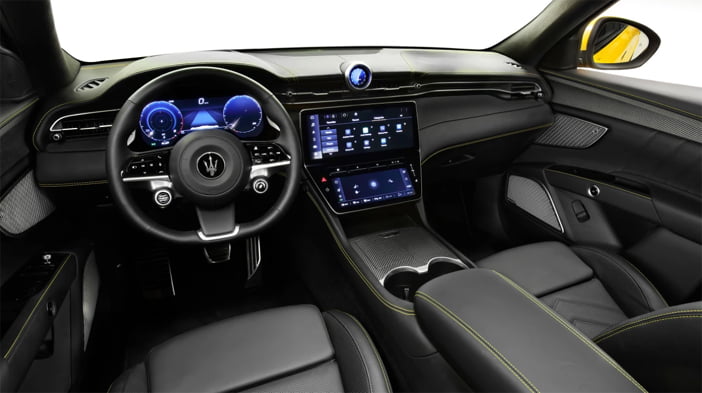 The fully electric Grecale Folgore (for lightning) will touch down in dealerships a year after the combustion car, as 1 of 6 new electric Maserati models due by 2025. The Grecale Folgore will take on Porsche's upcoming Macan EV and the Audi Q6 E-tron when it goes on sale next summer. It will be sold initially alongside electric versions of the reborn Granturismo and open-top Grancabrio, due to be revealed later this year, and joined before 2025 by pure-EV versions of the Maserati MC20, Quattroporte and Levante. Technical details of the Grecale Folgore remain largely under wraps this far out from its launch, but Maserati promises it will pack up to 800 Nm; almost as much as the Audi e-Tron S, which cracks 0-100 kph in 4.5 seconds, and has a 105 kWh battery, which could feasibly supply upwards of 560 km of range. It is unclear also whether Maserati's re-engineering of the Giorgio platform to accommodate an electric drivetrain holds any implications for the future of the similarly sized Alfa Romeo Stelvio, which rides on the same platform. The architecture was originally developed by Fiat Chrysler Automobiles (FCA) before the company merged with PSA to create Stellantis. It cost around € billion to develop, but so far has only been deployed on the Alfa Romeo Giulia and Stelvio, and has not been listed by Stellantis as one of the platforms it will use as it launches a wave of bespoke electric vehicles over the coming years. The Grecale Folgore will be largely identical to the combustion car inside and out, save for the option of an exclusive Rame Folgore paint finish which changes colour according to the angle of light and the use of recycled fishing nets throughout the interior. The same looks to be true of the electric Granturismo, which has been previewed several times by Maserati ahead of an unveiling later this year and looks similarly proportioned and styled to the V8-engined first generation which bowed out in 2019.
+++ MINI has confirmed plans for a dramatically revamped range comprising separate petrol and electric versions of its 3-door flagship, a small electric crossover and a larger Countryman. The company confirmed that over the next 5 years, its model range will undergo rationalisation and a big push towards electric powertrains. The core of the range, as before, will be the classic 3-door hatchback, but buyers will have a choice of 2 electric powertrains. Unlike the current Mini Electric, which is based on a platform that wasn't originally designed with electrification in mind, the new electric models will be mechanically unrelated to petrol-engined Minis. However, they will continue to look very similar. A long-mooted city car that was set to take the Minor name back into production and serve as a rival to the Honda E is now off the table, Mini has confirmed. Ever since Mini revealed the much-loved Rocketman concept back in 2011, it has been speculated that a city car could be introduced to sit beneath the supermini. Instead, Mini has now managed to make the core 3-door hatchback slightly shorter. It will lose a chunk of its lengthy front overhang to bring the design closer to that of the Sir Alec Issigonis-designed original 1959 Mini and BMW's 2000 revival. The wheelbase, meanwhile, will grow by around 40mm to boost interior space, and the track will be widened. Mini design boss Oliver Heilmer has previously said he is looking to "reduce Mini design as much as possible", with the aim of taking out ornamental elements. As seen on the development prototype for the new 3-door hatchback, flourishes such as the clamshell bonnet and black plastic wheel-arch extensions will be dropped in line with this ethos. The 2-door convertible and the 5-door hatchback will return too, with the latter's design to "be much improved", according to Heilmer. Both will remain petrol-only, however. For buyers after a more practical electric Mini, there will be a smaller crossover to sit beneath the Countryman, allowing that SUV to get larger. The petrol 3-door and 5-door hatchbacks and the Mini convertible will continue to be built at Mini's Oxford plant, but the electric models will come out of a new factory in Zhangjiagang, China. This new plant is the result of the Spotlight Automotive joint venture formed by Mini's BMW Group parent firm and Chinese giant Great Wall Motor in 2018 for collaboration on the development and production of battery-electric vehicles. As a result, the petrol and electric Mini hatchbacks are based on completely different architectures. Having 2 separate platforms, says Mini, means the cars aren't compromised like the current Electric, which can accommodate only a relatively small battery. The petrol cars will be based on an evolution of the current FAAR platform, a larger variation of which is used by the new BMW 2 Series Active Tourer and will go into the next BMW X1 and Mini Countryman. I expect a similar powertrain line-up to the current hatchback, with 3-cylinder turbo petrol engines for the lower-powered One and Cooper models and 4-cylinder turbo petrol units for the Cooper S and John Cooper Works hot hatches. Mild-hybrid assistance is likely, but plug-in hybrid powertrains have been ruled out, as have diesel engines. The electric hatchback, on the other hand, will be based on the EV-exclusive Spotlight platform. Despite many components being sourced from Great Wall and the car being made in China, Mini is adamant that the development is all carried out in-house by Mini engineers. It said that its customers are demanding and would notice if it doesn't feel like "a real Mini". To that end, the new petrol and electric hatchbacks are being developed side by side, with engineers working on both. Mini is gradually moving towards being an all-electric brand. It plans to launch its final ICE car in 2025 and for EVs to make up 50 % of its global sales by 2027. As part of that plan, there will be more variety in the EV offering. Today's Electric is positioned as the battery equivalent of the Cooper S, but for the next generation, there will be a dedicated electric Cooper model. The battery size will be tied to the power output, so the 184 hp Cooper will have a battery capacity of approximately 40 kWh. That is already a lot more than the current car's usable capacity of 28.9 kWh but still not huge by today's standards; it is similar to that offered by the Fiat 500 electric. As a result, it is projected to have a theoretical range of around 300 km. The range-topping Cooper S, meanwhile, will come with 225 hp and a battery capacity of around 50 kWh for a range of approximately 400 km. Autointernationaal understands that despite the bigger battery, the new electric hatchback will end up slightly lighter than the current Electric, thanks to the dedicated EV platform. In addition, it will benefit from a lower centre of gravity and slightly rear-biased weight distribution. The suspension will retain the same layout: MacPherson struts at the front and a multi-link system at the back. The latter is unique in this segment, with all other supermini-sized cars using a torsion beam. However, the engineers reckon that the added sophistication afforded by a multi-link defines the Mini's character, making it worth the additional expense. The new car is currently about 18 months away from going into production. Over that time, it will go through an extensive verification programme of summer and winter testing, with set-up and the tuning of the control systems still to be finalised. +++
+++ SKODA , part of the Volkswagen Group, said its supply partner in Ukraine had decided to restart production of wire harnesses which should allow the Czech carmaker to resume production of its electric Enyaq iV model. Russia's invasion of Ukraine has added to supply chain problems for global automakers, which were already struggling with semiconductor shortages that have cut production, with a break in deliveries of wire harnesses from the war-torn country. While Skoda, the Czech Republic's biggest exporter, said it expects the supply of semiconductors to improve in the second half of 2022, it said the war in Ukraine and supply bottlenecks will put a significant burden on its operating business. Skoda's 2021 deliveries fell 12.6 % year-on-year and earlier this month it stopped production of the Enyaq iV because of harness shortages, saying that 2 other models were at risk because of the lack of availability of the component. "Our partner in Ukraine decided to restart production of wire harnesses this week, with full service and full security for workers there", Karsten Schnake, Skoda's board member for purchasing, said during its online 2021 earnings presentation. Wire harnesses form a key part of a car's electrical system, which group and guide cables inside the vehicle. "We decided to double the production in case something is going wrong, and this production will be ramped up in an alternative factory", Schnake said, adding that work there would start in 3 or 4 weeks. "Hopefully we can restart production of Enyaq iV 1 or 2 weeks later when we have wire harnesses", Schnake said. Skoda delivered 878.200 cars worldwide in 2021, the first time that this had fallen below the 1 million mark since 2013. Nevertheless, the VW group brand's sales revenue rose 3.9% to 17.7 billion euros in 2021 and operating profit rose 43.2% to 1.1 billion euros as it took cost measures. Skoda did not give a financial or production outlook, saying there were still considerable uncertainties as a result of the conflict in Ukraine and the impact on its Russian operations. Skoda, like VW, has suspended production and other business activities in Russia, which was its second-largest market last year, with 90.400 vehicles delivered. Meanwhile, the Octavia was the company's best-selling car. It sold 200.800, followed by the Kamiq with 120.700 and the Karoq with 119.200. SUVs accounted for 60% of Skoda's overall sales in 2021. Schäfer revealed that Skoda has 3 electric cars in development. He didn't reveal any details about them but hinted that an electric Octavia is being worked on. Skoda is working with Volkswagen to develop the successor to the wildly successful Skoda Superb and Volkswagen Passat duo. Skoda confirmed that hydrogen isn't on the agenda, saying that there's "nothing more reasonable than battery-electric driving". It has a goal of increasing its share of EVs to 50-70%; a figure expected to be bolstered by the Enyaq iV. It will also introduce a new design language later this year. Named Modern Solid, it has been described as the "most dramatic change for Skoda since joining the Volkswagen Group". Skoda said it will redefine its purpose, positioning and customer groups, which will "shape its new brand design and design language, as well as brand communication". "This evolutionary approach will prepare Skoda for a new digital and electric mobility", the company said. More details will be revealed in the second half of this year. +++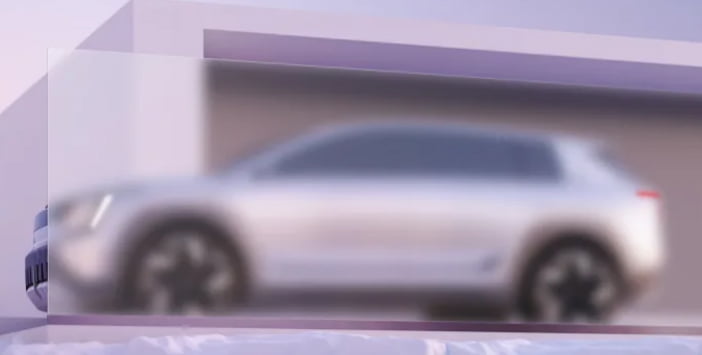 +++ TESLA esla is ramping up its European offensive as the first Model Y EVs have begun rolling off the line at its new Berlin Gigafactory. CEO Elon Musk was joined by German Chancellor Olaf Scholtz to oversee the first 30 cars built at the €5 billion Grünheide plant being handed over to customers. "This is a great day for the factory", Musk told, calling the start of production "another step in the direction of a sustainable future". Grünheide is Tesla's first European hub, having first been announced 2 years ago. It's the company's third major production facility, joining those in the US and China. The 30 new Model Y owners and their families were joined by German Tesla fans, who posted images and videos of the handover event to social media. The facility will eventually produce 500.000 cars per year when at full capacity, which is expected to take around 2 years. It will also generate 50 gigawatt hours (GWh) of battery power, eclipsing all other car plants in Germany. Rival company Volkswagen is preparing to turn its Wolfburg facility into an EV production hub, but the €2 billion upgrade isn't expected to be completed until 2026. Globally, the entire Volkswagen Group produced around 450.000 EVs last year. Grünheide was originally planned to open last summer, but the start of production was delayed by supply-chain issues created by the pandemic, as well as concerns about the plant's environmental impact. Tesla received final approval to start car production there on 4 March, having almost lost its water-supply contracts following a complaint by local environmental groups. The American company subsequently promised to minimise water usage and to plant more trees than were removed during construction, although these promises weren't enough to prevent protesters from gathering outside the facility during the handover ceremony. Tesla has said that new car orders from the plant could be delivered from April. +++
+++ A good way of measuring the success of the VOLKSWAGEN GROUP 's financial year is via CEO Herbert Diess's performance-related bonus. In 2021, he took home an extra €5.29 million to bring his annual total to €8.6 million, according to official figures. Why were Diess and his fellow board members so well rewarded in a troubling year for the automotive industry? Because the German group made profits of €20 billion on sales of 8.6 million cars. That's compared with €19.3 billion on €11 million in 2019. Put another way, the Group's €2.325 profit per car last year was up €571 on a year when there was no Covid disruption nor a global semiconductor shortage. As we've seen across the industry, however, the chip crisis actually contributed to the bumper profits. "Vehicle sales across the group declined 6.3 %, yet we were able to increase revenues 12% to €250 billion as we allocated more chips to higher-margin models and reduced sales incentives", Diess told financial analysts on an earnings call. Higher-margin equals more profits, so production of the relatively budget Volkswagen Golf dropped a whopping 35% while those factories operated by the Group's premium brands were running at full tilt. For example, Lamborghini broke out its financial results for the first time to show a 20% profit margin on record sales of 8.405 cars. The same went for Bentley, which managed a 14% margin with record sales of 14.594 cars. Both brands capitalised on demand for their related SUVs, the Lamborghini Urus and Bentley Bentayga, which were by far their best-selling models. Audi meanwhile posted a healthy €5.5 billion profit on 1 million sales; nearly double 2020's figure, despite a slight drop in sales, led by the Q5. Audi said the bumper year was "mainly attributable to a significant improved pricing", meaning it discounted less and focused on higher-priced models. Porsche came dramatically close to Audi on profits of €5 billion, despite posting fewer than a third of its sibling brand's sales, at just under 300.000. This meant Porsche's revenue per car sold just pushed over €100,000, of which €17.000 was profit (16.5% margin). The Cayenne was once again the brand's most produced car, followed by the Macan. It wasn't all good news for the Group, though. Seat once again failed to post a profit, despite the revenue boost from the higher-priced Cupra models. Volkswagen said the Spanish company's performance had been "appreciably weakened by commodity price increases and the shortage of semiconductors". The profit boost at group level didn't just come from higher prices (or fewer discounts) on the more expensive models it prioritised. It also gained measurably from the high price of used cars, notably through those owned by its leasing arm, Volkswagen Financial Services (VWFS). Cars it had figured being worth one price when they came back were suddenly commanding much higher prices as the shortages of new cars bumped up the value of used cars. That had VWFS profits more than double in the year to just under €6 billion, "primarily due to the high demand for used vehicles and considerably lower risk costs for credit risk and residual value risk", Volkswagen said in its annual report. However, analysts are lukewarm about the ongoing ability of the Volkswagen Group to maintain this level of profitability. The €9 billion boost to profits from car sales was "mostly driven by external factors" outside of its control, wrote Philippe Houchois, analyst at investment bank Jefferies, in a note to investors. Houchois warned that the "fixed and variable cost drift had resumed after 2020's hiatus", drawing attention to Volkswagen's long-flagged inability to properly get to grips with its high cost base. The warning was that this 'annus mirabilis' could end up being a one-off as the chip crisis eases. For example, the €1.9 billion hit from rising raw material and production costs is likely to go up as production numbers increase. The Volkswagen Group, along with the rest of the car industry, had best use this year's windfall profits wisely. +++